Products and Apps brought to market.
HOBBY EDITION ROCK TUMBLER
NATIONAL GEOGRAPHIC & DR. COOL
It was always a lot of fun when I was able to step away from Illustrator for a bit and break out Maya for some 3d design work. When asked to tackle our upcoming Hobby Edition Rock Tumbler and given free reign on the aesthetic, I pulled inspiration from some of my favorite art periods, art deco and art nouveau. Although I tend to like the flowing lines found in art nouveau, I decided in the end to move forward with a clean, Deco design.
One exciting noteworthy achievement with this design, the last thing I heard was that the National Geographic Hobby Tumbler was the highest selling single product at the company.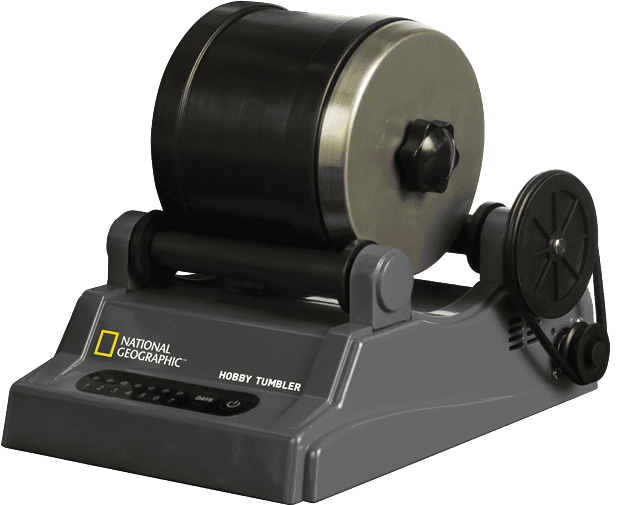 Over 1,2oo reviews on amazon with an average of 4.7 out of 5 stars!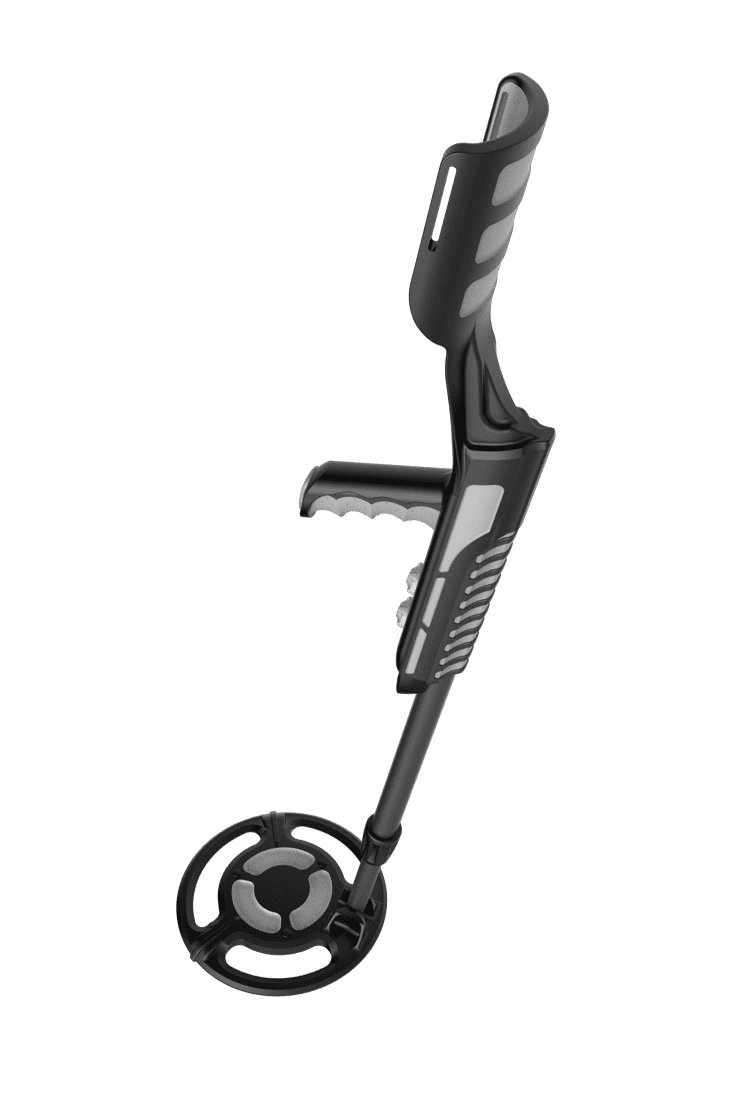 The original aim for this design was to create a "tacti-cool" feel to the product while still focusing on ergonomics and functionality. This quickly progressed through a number of different iterations including a space age themed look to the final designs shown below.
I was fortunate with this project as about half way through JMW hired an exceptional solidworks / industrial designer who was able to help take over the modeling aspects of this project so I could focus on design and my other projects.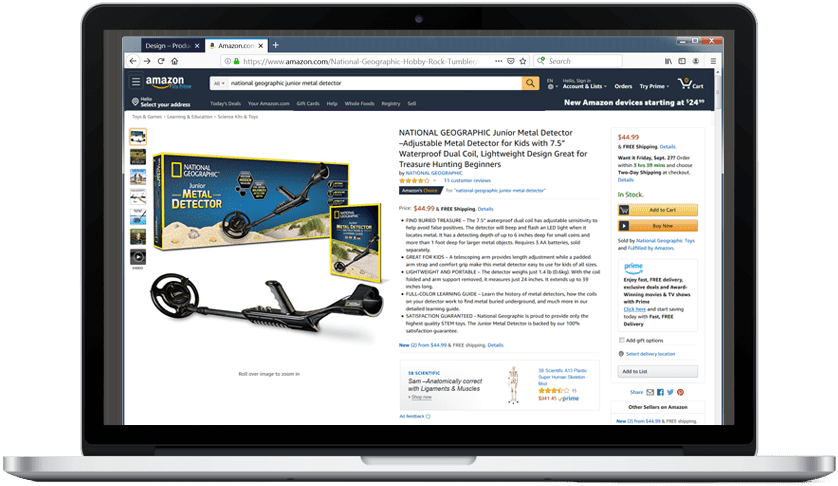 This product was released after I left the company. It was nice to see it brought to market.
"I was immediately impressed by the lightweight and overall design."
– Lacey C.
METAL DETECTOR SAND SCOOP
One Wednesday in 2016, amidst two weeks of straight double shifts I was told that I would be headed to China on Friday to help our manufacturers design the colors for a line of soft dinosaur figures I had worked on. Rushing around getting my paperwork in order while advancing my current projects as much as I could was stressful, yet exciting, and I found myself Friday morning on a 14 hour flight to mainland China, arriving alone at 5am.
This scoop was a project I was asked to design while I had some downtime at our Xiamen office.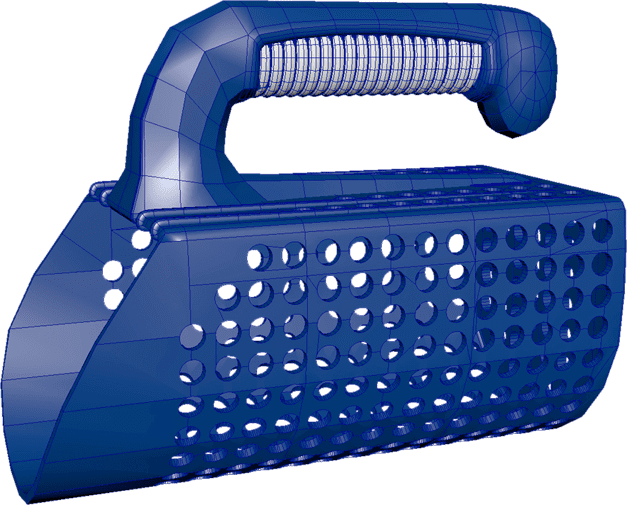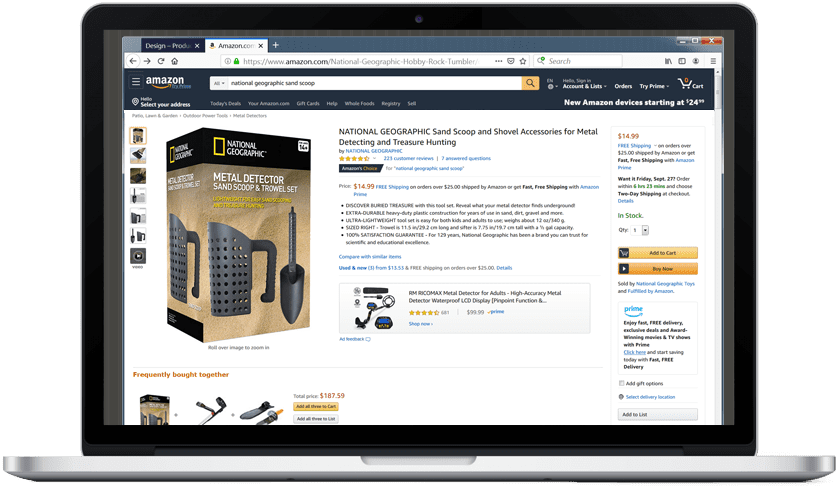 Over 200 reviews on amazon with an average of 4.7 out of 5 stars.
"This sifter was surprisingly durable. We used it in both dry and damp sand and it sifted really well. The holes are a nice size, small but certainly not too small. You'll catch all of the coins and rings and bottle tops and car keys!" – G. Crosby
"Thick, heavy duty plastic scoop and shovel. Nothing could be better about this product. VERY kid proof and durable." – Jeremy B
NATIONAL GEOGRAPHIC MOBILE DESIGN
User Interface designs for iOS and Android devices
For iOS & Android Devices
One of the most exciting aspects of our Wildlife Wow line of toys was the virtual interactivity with each and every figure. Using mobile phones or tablets, we used augmented reality to view inside the animal to see its bone structure and virtual reality to make a digital representation of the figure walk around the table.
This project was nearing release when I was asked to address the graphical needs of the UI, which meant that the structure and functionality of the program were pretty set. I was only able to address the quality and look of the aesthetics.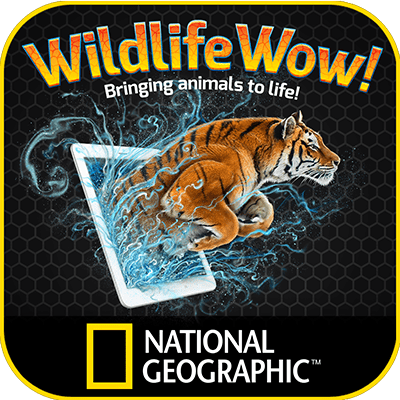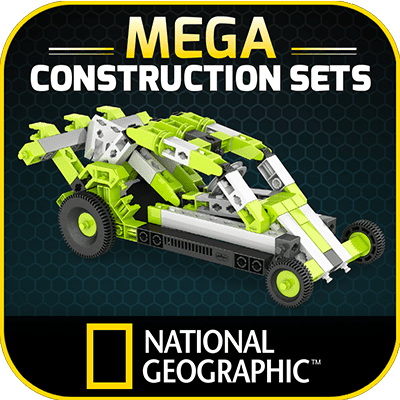 For iOS & Android Devices
Our construction sets allowed consumers to build either 35 or 100 different models depending on the set purchased. Instead of including physical paper instructions for each possible build, we opted to create an app to serve as a set of digital instructions.
Much like the Wildlife Wow design project, the functionality of this app was already made and I was asked to do a quick design pass to raise the quality and polish of the aesthetic.